PASTOR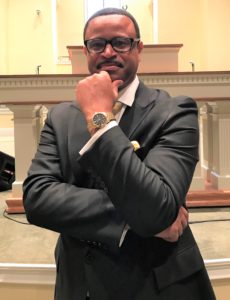 Rev. Stanley James
Pastor Stanley James, a native of Grenada, MS, has served in various ministry and leadership capacities going on 20 years, where he annually performs numerous revivals, conferences, and ministry engagements.
He is married to Cynthia Hubbard James where they have celebrated marital bliss going on 25 years. From this blessed union, they have three children, Candice, a teacher, Cameron, a musician, and Jordan, a student in Rankin County.
He is the proud pastor of True Vine Missionary Baptist Church in Brandon, MS where the entire family serves in ministry.
He is the former pastor of Greater Faith Missionary Baptist Church in Grenada, MS where he served for 6 years and Rock Star Missionary Baptist Church of Brandon, MS where he was blessed to serve for 5 years.
He served locally as Executive Director of the Congress of Christian Education for the Grenada Baptist District Association. He has a Network Engineering degree from Virginia College where he became the school's first Microsoft Certified Systems Engineer. He has a bachelor's degree in Biblical Studies from Andersonville Theological Seminary in Camille, GA. He is presently employed at AIS as a Systems Engineer in Madison, MS. He was employed at The University of Mississippi Medical Center Grenada as a Systems Analyst.
Pastor James is the author of four nationally published books: My Two Eyes, A Bull in My Backyard, Today's Encouraging Word Devotional, and Building Core Confidence. He is a founding board of directors' member of a non-profit 501c3 company, Community Matters Inc., under former Jackson State University president Dr. Bettye Ward Fletcher. This company secured grants more than 1.3 million dollars to bring abstinence education to rural counties in central Mississippi.
In his spare time, Pastor James enjoys spending time with the family, reading, and golfing.