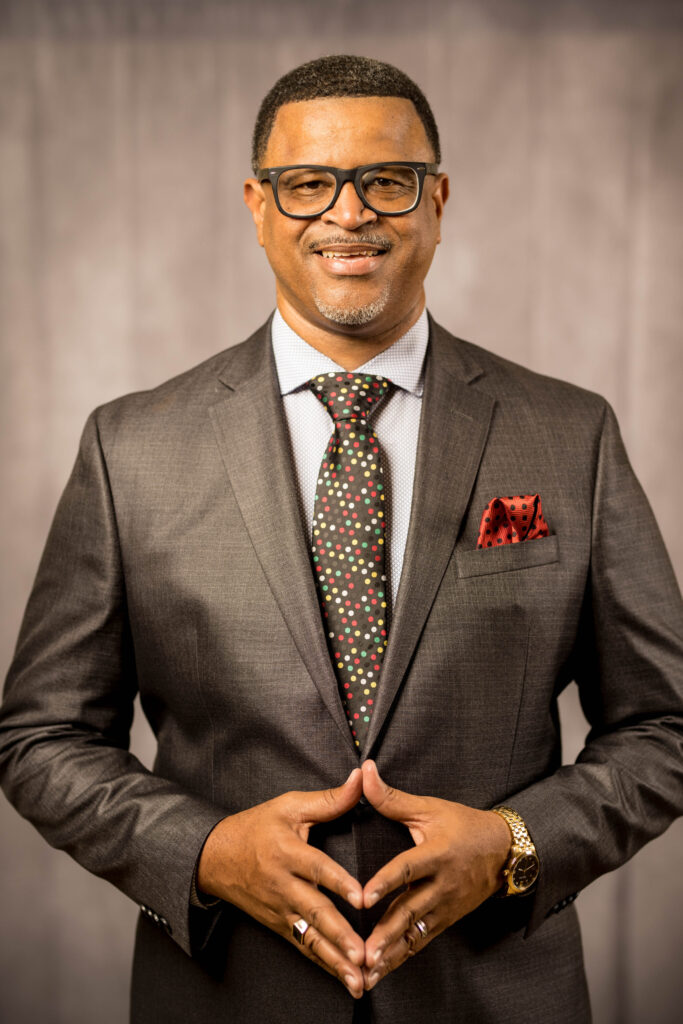 Pastor
Stanley James
Stanley James was born into the world Sunday October 19, 1969 in Grenada, MS. He was saved at a young age following in the footsteps of his Grandfather who served as a Baptist Deacon in Antioch Baptist Church. He rededicated his life to Christ in December of 1996 at the Burning Bush Baptist Church. Shortly thereafter, he was ordained to the gospel ministry in February of 1997.
He is married to Cynthia Hubbard James where they have celebrated marital bliss for 27 years. From this God arranged union, they have three children: Candice, a teacher, Cameron, a musician, and Jordan, a student in Brandon High. In January of 2017, Pastor James was called to pastor the True Vine Baptist Church in Brandon, MS; where the entire family serves in ministry. Pastor James and his family first came to True Vine in October of 2000. He immediately was elevated in ministry to worship leader in 2001 under Pastor Charles Randall. In that capacity, he started the Bonds of Love prison ministry. Pastor James was called in 2002 to lead the Rock Star Missionary Baptist Church in Brandon as pastor. He served and grew the church until he was relocated to Atlanta, GA in July of 2007. While in Atlanta, he started Encouraging a Generation Ministries. While there he was also able to produce a radio show entitled "Today's Encouraging Word". Atlanta became the birthing ground to expand on an array of gifts and talents as he wrote and self-published four nationally recognized books:
My Two Eyes
A Bull in My Backyard
Building Core Confidence
Today's Encouraging Word Devotional
In 2010, Pastor James moved back to Grenada, MS where he began pastoring the Greater Faith Missionary Baptist Church. The church grew phenomenally in their first four years almost tripling in size. Pastor James was invited to sit on a special task force assigned to the Grenada City Council, to advise on strategies to combat community violence.
Pastor James was chosen to serve locally as the Executive Director of the Congress of Christian Education for the Grenada Baptist District Association in charge of overseeing the Christian education needs of 17 churches. He is a certified instructor for the National Baptist Convention USA.
He holds a bachelor's degree in Biblical Studies with an emphasis in Theology from Andersonville Theological Seminary in Camille, GA. He also holds a Network Engineering degree from Virginia College of Jackson, MS. He became this location's first MCSE and was chosen to represent the class as the graduation commencement speaker.
In 2001 he was invited to serve on the first board of directors for Community Matters Inc., under former Jackson State University president Dr. Bettye Ward Fletcher. This company secured grants more than 1.3 million dollars to bring abstinence education to rural counties in central Mississippi.
In 2019, Pastor James founded the Vine Place Community Outreach. VPCO is a new 501c3 nonprofit organization seeking to educate, equip, and empower diverse families of the Rankin County area to shape the economic, social, and cultural vibrancy of the community.
Pastor James serves as mentor and advisor to younger pastors and ministers while preaching revivals and conferences. In his spare time, he enjoys studying God's Word, spending time with the family, reading Christian and educational literature, and bettering his golf game.